TODAY'S BLOGCAST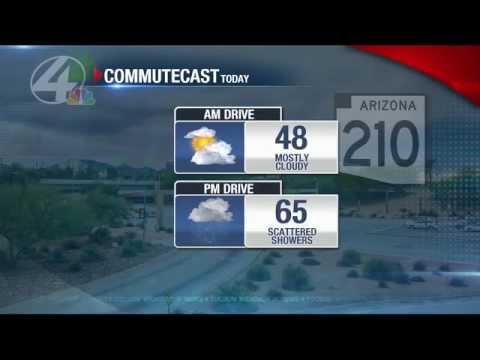 THE CLIFF NOTES
Today - 40% showers. 65°, northeast wind 5-15 MPH.
Tonight - 60% showers. 49°, east-southeast wind 5 MPH.
Tomorrow - 40% morning showers. 72°, east-southeast 5-10 MPH.
TODAY'S FORECAST DISCUSSION
Got umbrella? You'll need it this week.
The first of two storm systems arrives today. Scattered showers are possible this afternoon, tapering off late tomorrow morning. Rainfall amounts will range between 0.25-0.50", with the highest amounts possible west of Tucson. Snow levels stay just above mountaintop level.
Highs today reach the low 60's, while overnight lows drop to the upper 40's.
Tuesday and Wednesday afternoon see dry conditions prevail. Storm system #2 is slated to appear in time for Super Bowl Weekend. A few showers are possible late Thursday night, increasing in coverage Friday and Saturday. Super Bowl Sunday may feature a few morning showers.